Cocci-Zione 25 sol
---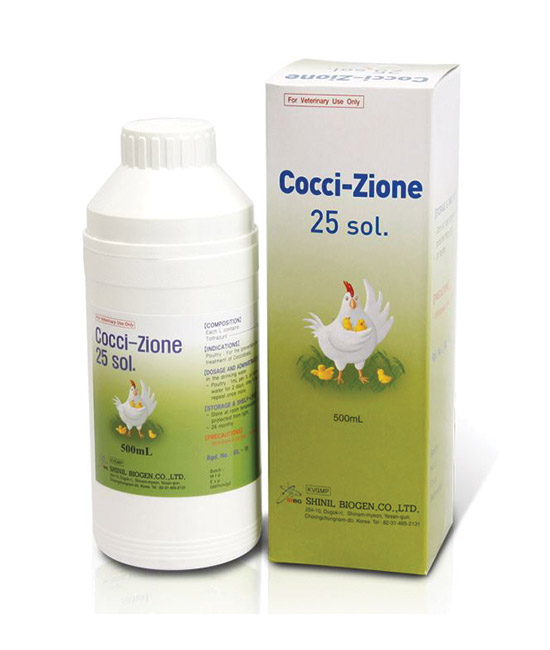 New powerful anticoccidials 
Characteristics​: 
● Toltrazuril damages all intracellular development stages of Eimeria.
● Toltrazuril affects schizonts, micro- and macrogametes, but not the tissue cells of the host animals, as was shown in light and electron microscopic studies. These findings suggest that toltrazuril interferes with the division of the nucleus and with the activity of the mitochondria, which is responsible for the respiratory metabolism of Coccidia. In the magrometes, toltrazuril damages the so-called wall-forming bodies. In all intracellular developmental stages, severe vacuolisation occurs due to inflation of the endoplasmatic reticulum.
● Toltrazuril acts on all intracellular developmental stages. Toltrazuril does not interfere with the development of immunity, follow-up treatment usually is not necessary, even an advanced infection (after 3 ~ 5 days; gametogony) can still be treated successfully.
● The efficacy of toltrazuril is independent of the severity of the infection.
Composition: Each L contains
 Toltrazuril .................. 25g
Indications: - Poultry : For the prevention and treatment of coccidiosis.
Administration & Dosage: 
In the drinking water
 - Poultry : 1mL per 1L of drinking water for 2 days.
 ※ After 5 days, repeat once more, if needed
Withdrawal period: 16 days.
Package: Bottles of  500mL and 1L